We here at Daros are fully into post-production on Greyscale, which means there are far fewer fun photos to post, and far less exciting status updates.  We have an image lock and are now working on sound design and visual effects via Andy Gilliam and Daniel Lipats respectively.  Honestly, it's a relief to know that if I take a short breather, then the film is getting closer to completion without me.  That hasn't been the case since February of 2008.
Back in April we wrapped on Greyscale and shot a short film called Leave Me (posted on this blog recently), which has gone on to get over 80,000 views over its various venues, and will soon be popping up on Hulu.com!  It was a nice break from the behemoth project, and something of a nice reprieve to remind ourselves that what we're working on isn't worthless as we received many stories of people who were dealing with the death of a family member, a divorce, or any sort of traumatic separation.  It was humbling and reinvigorating.  Artists may make art for themselves, but it's the opinion of the consumer that dictates whether the artist can continue (or sacks of money the artist has stashed away…).
With Greyscale reaching almost 2 years in the making, it was good to know that something we could produce within 36 hours could move people.  The verdict is still out on the behemoth since it hasn't been released, but I'm very pleased with how it's shaping up.
It's quite an amazing thing to spend months upon months crafting characters only to have them come alive for a few days (or for larger characters, months) and then forever be relegated to footage.
.:New Beginnings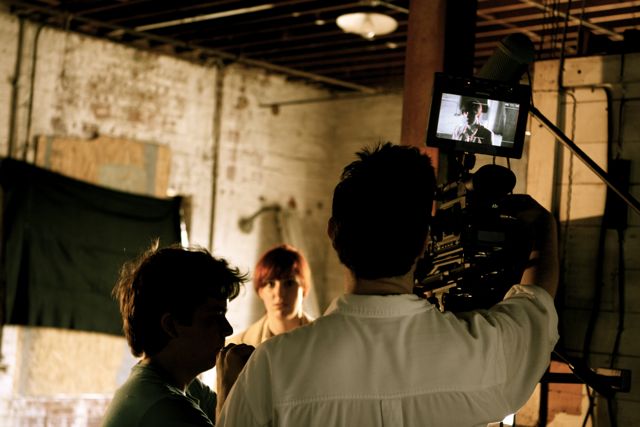 In fact, the whole process is beginning again.
We still haven't begun pre-production as the story has to be greenlit, but that isn't stopping us from beginning to form together our next big story.  Dustin Ballard (co-writer of Leave Me and storyline consultant on Greyscale), Gloria Roundtree (AD on Greyscale), and myself have been meeting on a weekly basis to hash out the framework of the story.
While I am very hesitant to give details on any story elements so early in the game (if you remember, Greyscale was originally a sci-fi concept…), I can tell you that it's currently shaping up to be something quite different from Greyscale and a bit more like Leave Me.  Since we had such a massive (and very primal) reaction to that, it's becoming more apparent the healing power that a good story can have.  It's something we're planning to explore further, and when we have some concrete news to share, we'll post it here.
.:Done in 60 Seconds
The same organizers that put together the 36 hour film fest that we created Leave Me for is now at it again with a 12 hour festival on December 28th.  This time the limit is 1 minute, and we are most definitely participating again.  More updates on that as it nears.
Thanks for sticking around.